Recently on Blog
Top Posts
Send MMS vCard from Android: bizCard Manager 2.0.0 update

I'm really happy to announce bizCard Manager 2.0.0 update. The most important feature added is MMS vCard support. Now you are finally able to send MMS vCards from your Android device to the most recent smartphones like iPhone, Nokia or other Android based devices supporting MMS vCards even if your device does not support this feature by default. Read more to see all new features included in the version 2.0.0.
You can get your copy of
bizCard Manager on Google Play
now!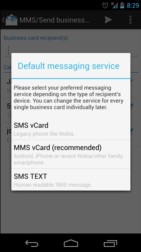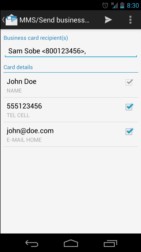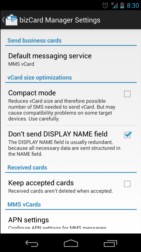 Android 4.4 udpate and bizCard Manager
Quite a lot of things changed in the Android world since last bizCard update (1.6.2 -> 2.0.0). The most significant change is the Android 4.4 (Kitkat) update. Android 4.4 update changed some rules on sending and receiving SMS messages in Android system and affected bizCard Manager behaviour a bit. The most important thing is that there can be only single main messaging app in the Android system now since 4.4 and e.g. it is not possible to "block" incomming SMS message even when it's really meaningful. That is, for example, when incomming SMS vCard arrives there is no way how to prevent dropping it as raw vCard data in your SMS inbox. Thankfully that does not affect whole functionality so it's still possible to catch that kind of SMS, parse it as vCard and show it as user friendly contact in bizCard Manager.
MMS vCard support
But let's go back to the bizCard Manager 2.0.0 update. The most important new feature implemented is
MMS vCard
support for outgoing business cards. It is possible to send MMS vCards to smarthpones like iPhone o recent Nokia since now, because those kind of smartphones accept only MMS vCards.
Messaging services
Another feature implemented is the concept of
messaging services
. Messaging services allows user to select what kind of vCard format and transport will be used. The main reason for implementing messaging services was the MMS support added and therefore it possible to use different ways to transport business card now. There are three messaging services available now: SMS vCard, MMS vCard and SMS TEXT.
SMS vCard
The old good "Nokia" style of business card exchange. This messaging service was the one and only service available in previous versions of bizCard Manager (up to 1.6.2). It uses various techniques to transport vCard over binary or text SMS. This transport method is not supported by modern smartphones too much these days (for example by iPhone) and is being replaced by MMS support.
MMS vCard
Raw vCard data transported over the MMS. This kind of transport has some advantages and disadvantages but it is the recommended one for best compatibility today. MMS is not native GSM transport method and uses HTTP requests (inside the operator's network) and this is the reason why bizCard Manager 2.0.0 requires INTERNET permission since 2.0.0. Sending MMS in general requieres correct MMS APN configuration and active data connection on your smartphone. MMS APN configuration is network operator specific and sometimes it's not possible to detect your system configuration (Android security restrictions since 4.2). If you experience MMS APN config problems, please contact me.
SMS TEXT
SMS TEXT messaging service sends contact information as human readable SMS message. Every phone supports SMS and everybody in GSM world is able to receive and read this kind of contact information. This messaging service was added as an alternative for machine readable vCard services.
Get bizCard Manager now
Get your copy of
bizCard Manager on Google Play
now!
FREE version vs FULL paid version
I've changed FREE version restrictions a bit. Free version is offered for testing purposes
only
mainly and if you want to get all the functionality available please buy the full version. FREE version does not suppport accepting received vCard and performing direct actions (send e-mail, call number) on received vCard detail. Also some restrictions on sending business cards apply: only one number with name is sent and a bizCard FREE note is added to the business card. bizCard Manager price is less then on cup of coffee. Please support the further development ;). And let me know what you think about it down below the article in the comments! Thanks!
Comments
What do you think?