Recently on Blog
Top Posts
DesktopSMS Lite: Send SMS from computer using Android phone

In the following article I'd like to introduce you DesktopSMS app that brings SMS messaging on your Windows PC (including Windows 10) using Android phone. With DesktopSMS Client, native Windows PC application, you can connect your computer and Android device and then read, compose and send SMS messages easily using computer keyboard. Let's take a closer look.
If you want to get
DesktopSMS Lite
or
DesktopSMS Client
, please refer to:
Why another desktop SMS text messenger?
I still send SMS messages a lot even though it's on-line messaging that rules instant communication these days (all those apps like WhatsApp, Viber, Facebook Messenger, Google Hangouts, ...). And because I'm usually on my computer all day it is no wonder that I am interested in working with SMS messages using the computer.
Why sending SMS from the computer?
I do remember the Nokia days where Nokia PC Suite was a great tool that allowed this stuff. Using a computer keyboard is more comfortable than sliding on your smartphone touch screen, don't you think? Back in the day Nokia PC Suite was freely available to all Nokia users and offered great management tools including managing SMS messages on the computer. And I used it a lot! But when my last Nokia was gone and I turned into an Android system I quickly realized that sending SMS messages is no more fun as it used to be. I was not able to find any PC Suite alternative so I started thinking about making such a tool on my own...
Why did I start my own project?
I was trying a lot of apps that were meant to do SMS messaging on the computer, but I had no luck finding an app that would satisfy my needs. At the end of the year 2018, Google brought SMS management to our browsers, but I don't like using my browser to do such things, e.g. I still prefer e-mail in Outlook better than in my browser. And all my content would be synced through Google servers, not that it would mind because of privacy or so, but you need internet access and servers
at the other side of the globe
to sync two devices that are laying on the same desk... Other options, including AirDroid or Pushbullet, require you to use a web browser and/or force you to register an on-line account or even both. I don't really think this is necessary if you want to sync two devices on the same network... So the idea of my own app, my own solution of SMS messenger on the computer (or PC, if you wish) was born. Even though the implementation was a really slow and painful process, the final result is here... Let me introduce you to DesktopSMS...
Send SMS from Windows/PC computer
So what is DesktopSMS? It's an app, tool, that allows you to send SMS messages using a computer and that makes SMS messaging more comfortable and fun. But it is not just about sending SMS only, DesktopSMS syncs all your existing conversations and SMS/MMS messages so you can easily access them on the computer in the same style like you are used to it on an Android device. The system is completed in two parts:
The first part is DesktopSMS Lite, Android application officially available through DesktopSMS Lite on Google Play.
Second part is DesktopSMS Client, native Windows/PC (Windows 7, Windows 8/8.1, Windows 10) application available for download at www.desktopsms.net.
DesktopSMS Client
is the main application that the user interacts with. It allows you to search and pair remote Android devices that have
DesktopSMS Lite
app installed. Pair request needs to be accepted on the remote device so it is not possible to get unauthorized access to remote devices. Existing conversations and SMS messages are synced and are available on the computer after successful pairing.
DesktopSMS screenshot
So let's see how DesktopSMS looks like and let's start with DesktopSMS Client, the client that the user interacts with. The first picture shows the app while on an active remote Android device connection where users can see existing conversations and SMS/MMS messages and of course can compose and send new SMS messages. The second picture shows device manager — a place where new and existing device connections are managed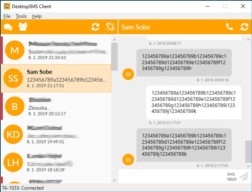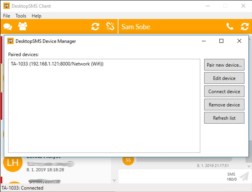 The face of the Android application (DesktopSMS Lite) is mainly the management part of the app where you can change settings and manage existing remote device pairings. Additionally, some important stuff can be found here, such as the IP address of your WiFi connection that you need to know if you want to pair with a remote device manually from a computer.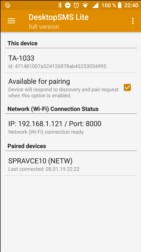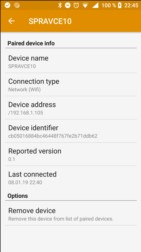 DesktopSMS key features
I've tried to follow set of key features (those I miss on the other desktop SMS messengers) while creating DesktopSMS. Here is the list of features I think are important and I hope I've managed to fulfill the list enough...
Native Windows PC application (Windows 7, Windows 8/8.1, Windows 10) — no need to use a web browser to access SMS/MMS data. Be able to utilize most of the features of the Windows system in terms of interaction with users.
No registration, no on-line accounts, no-cloud, no internet, just keep everything locally.
Allow multiple types of connection (Bluetooth and network (LAN) connection at least, maybe USB connection in the future if possible).
Keep default Android SMS messenger, do not force the user to change it in order to use DesktopSMS.
Store data from the remote device in the local cache to make data access as fast as possible without the need to fetch remote data again and again.
Allow pairing one phone with multiple computers and sync data accordingly.
Transfer the look and feel of SMS text messaging from Android to the computer (conversations, SMS/MMS messages, ...).
Security — not everyone is allowed to access remote devices without approval.
Make it possible to work with the message content, such as copy to clipboard, etc.
Connect to already paired devices with ease.
What is work in progress?
Some of the features are still not released, but I'd like to implement them into the next releases, here are some of them:
Advanced MMS support (work with MMS data as with ordinary files, such as save files as, make images clickable and viewable with installed tools, ...).
Better interaction with the user, such as an incoming SMS message notification if the app is minimized.
Conclusion
DesktopSMS is one of the options how to connect computers to a remote Android devices and use a PC to read, compose and send SMS messages. I'd like to hear what do you think about it, let me know in the comments for example! Also, let me know if you have a tip on how to improve the app, I'd appreciate it! Let's recap hwo to get
DesktopSMS Lite
and
DesktopSMS Client
:
Comments
What do you think?